8.15.15More States Encourage 'Companies with a Conscience'
Conscious Companies
In the last four years, 24 states and the District of Columbia have revamped their incorporation laws to help companies that aim to deliver social and environmental benefits, not just profits.
The move to allow businesses to register and operate as "benefit corporations" reflects the ethos of a rising generation of entrepreneurs and investors who are rebelling against the "profit-is-king" framework of corporate America.
The states that have taken action, starting with Maryland in 2010, have protected benefit corporations from laws that require corporations to maximize profits, letting them pursue social, environmental and economic goals without fear of shareholders suing them for not squeezing out every penny.
Companies can choose what social responsibilities they seek to assume. While the laws protect the companies from investor lawsuits for not maximizing earnings, they aren't protected if they don't live up to their social or environmental objectives.
"There are (investors) who'd rather put their money in a corporation that's not going to embarrass them down the line," said state Sen. Jeff Clemens, sponsor of the legislation enabling benefit corporations to register in Florida starting this year. "And there's a new generation of entrepreneurs who embrace the idea of making money while doing good."
Benefit corporations attract "socially responsible" investment and create jobs, Clemens, a Democrat, said. They pay taxes, don't pollute or otherwise degrade the state's environment and pledge themselves to paying living wages and other social causes or community works of their choice.
"It's a free economic development tool (for the states)," said Erik Trojian, policy director of B Lab, a nonprofit  group in Wayne, Pennsylvania, whose founders devised the idea of benefit corporations about a decade ago.
 'Counterculture Capitalism'
In Maryland, B Lab worked with state Sen. Jamie Raskin to give legal recognition to socially conscious companies and to spell out the protections and responsibilities of this new breed of corporation.
"This is creating an effective counterculture in the broader world of free-market capitalism," Raskin, a Democrat, said. "It has sped like wildfire across the country."
The number of states with rules for benefit corporations will grow to 26 on Jan. 1, by B Lab's count. That's when Minnesota and New Hampshire laws hit the books. The District of Columbia allowed for them last year. More states are expected to take up enabling legislation next year, B Lab's Trojian said.
Some 1,200 to 1,400 benefit corporations across some 60 industries have sprung up or taken on benefit corporation status across the country, according to B Lab, which tracks them and assesses how well the companies live up to the social responsibilities they've pledged to fulfill.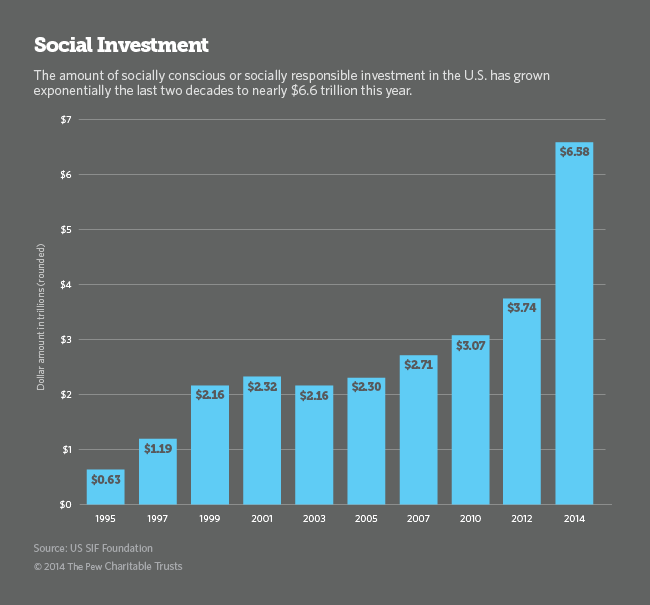 Among them: Patagonia, the outdoor outfitter; Etsy, the e-commerce website for handmade goods; Warby Parker, the seller of hipster eyewear; and New Belgium Brewing Co., maker of Fat Tire, Ranger IPA and other specialty beers.
Patagonia donates money and its employees donate time to various environmental projects in and outside California, where the company is registered. Etsy provides entrepreneurial education to underserved populations, among other causes. Warby Parker donates eyeglasses to the underprivileged. New Belgium Brewing is an employee-owned company that's committed to water and energy savings in its brewing.
Simultaneously, the amount of socially responsible capital looking for investment opportunities has exploded. This year, there's nearly $6.6 trillion of socially conscious investment in the U.S., according to the US SIF Foundation, which tracks the investment. That's about double the amount from two years ago.
Creating Urban Farming Jobs
Maryland has 88 benefit corporations registered, by B Lab's count. One of them is Big City Farms, which is bringing fresh produce to Baltimore restaurants and farmers' markets through urban agriculture.
Dave Bisson, Big City Farms' CEO, said the nearly four-year-old venture is helping meet an estimated $535 million market for fresh, organically grown produce in the Baltimore area. At present, he said, only 14 percent of the demand is being met.
The business model is to bring pesticide- and fertilizer-free farming to urban areas using low-cost greenhouses. That cuts down on transportation and energy costs, while offering fresh vegetables year round with little effect on the environment.
Big City Farms currently has 10 employees, including Bisson. He said they get paid a "living wage," which is greater than Baltimore's $7.25-an-hour minimum wage. The company isn't producing a profit yet. But Bisson said he hopes that will change next year, when the enterprise expands to some nearby land and hires more people with the help of a capital infusion from Investors' Circle, the nation's oldest and largest social impact investing network.
The long-term goal: "We want to create a local agricultural economy that employs people year-round at living wages … on underutilized land in a low-cost and environmentally friendly way," Bisson said. "Baltimore has plenty of unemployed and underemployed people."
Business Friendly
Nevada, where the unemployment rate remains among the nation's highest at 7.1 percent in October, has made it the state's business to try to make the state accommodating to business, said state Assemblyman David Bobzien.
Bobzien, a Democrat, sponsored Nevada's benefit corporation law to help show "Nevada is business-friendly" and to attract people with new business ideas and capital. The law took effect in January. Already, 322 companies have registered under it, making for the fastest-growing number of any state right now, according to B Lab.
"Benefit corporations appeal to idea people," Bobzien said. "Idea people don't always come into a business thinking only (of profits). They want to do some good along the way. Now, they no longer have to choose between being a nonprofit and a strict corporate structure."
Like the enabling legislation in other states, Bobzien found bipartisan support for his bill. And like almost all the states, Nevada's legislation passed unanimously or near to it in both houses.
The concept appeals equally to pro-business Republicans, socially liberal Democrats and, B Lab's Trojian said, free-market Libertarians. "We're de-regulating corporations," Trojian said. "It's not a free economy if corporations can only maximize profit."
The laws generally allow benefit corporation status for many companies, including partnerships such as limited liability companies or LLCs, as well as public corporations. But the companies must lay out their social and environmental commitments and publicly report each year how they've performed in those areas just as they also must file financial reports.
As a check on performance, B Lab and about a dozen other nonprofits, such as Underwriters Laboratories, offer certification and evaluations of companies' social and environmental performances. It's a way of telling the public how the companies are performing, and many investors require certification before putting money into them. Baltimore's Big City Farms, for instance, is B Corps certified by B Lab.
Trojian said many benefit corporations outperform the market average. Manystudies have indicated that having a good workplace results in greater dollar returns. But there's no across-the-board comparative assessment on benefit corporations' financial performance yet.
Like the social responsibility side, benefit corporations get to say what the financial bottom line should be. And both, Trojian said, are "up ultimately to the consumer and investor."
By Jeffrey Stinson,  The PEW Charitable Trusts